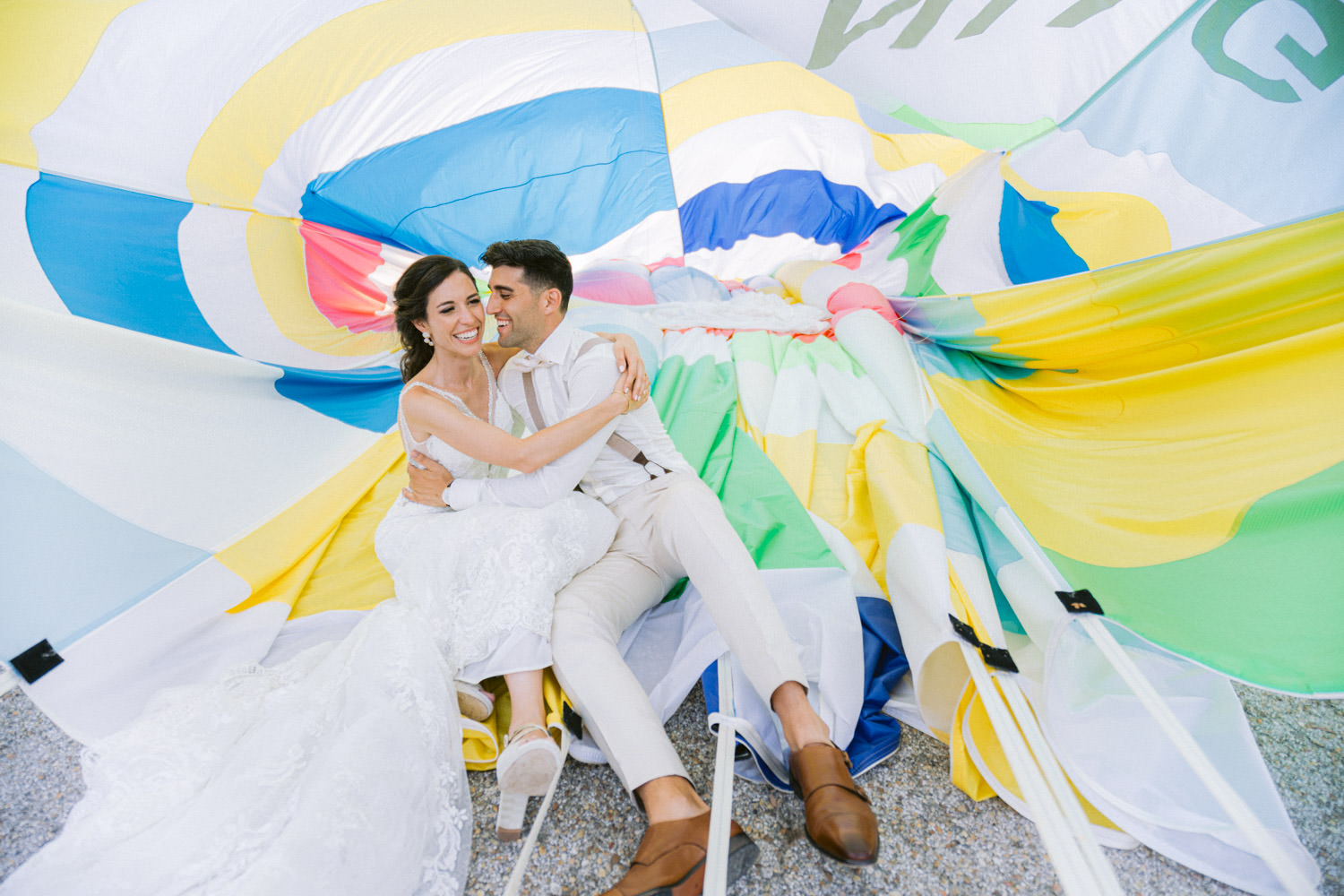 We want to share with you one of the most incredible weddings we have had the honor to work on. It's all about Raquel and Adrián's wedding, which took place at Finca Peñarrubia in Madrid! A Wedding in the Skies.
From the moment we received the form filled out by the couple, we knew this wedding would be truly special. We had never worked on a wedding where the couple has a hot air balloon! An unforgettable and unique experience!
After capturing the exciting moments during the preparations, we all headed to the Parroquia Asunción de Nuestra Señora, where the religious ceremony took place. It was a moment full of emotion, tears of happiness, and shared laughter with their loved ones.
The Finca Peñarrubia was the perfect place to enjoy the cocktail hour and the reception. There were so many surprises and emotional moments planned that joy was palpable in the air!
The couple had clear expectations for their wedding photography and video, and we made sure to capture every special moment. We wanted to immortalize the laughter and complicity between them, Adrián's emotional gaze as Raquel walked down the aisle.
There were truly unique moments, such as the photos with the horse-drawn carriage and, of course, the hot air balloon photoshoot. We will never forget that magical experience!
Raquel and Adrián, we want to thank you for allowing us to be a part of your special day. We are eager to show you the final result and allow you to relive each moment over and over again!
To wrap up, we want to share a piece of advice for future couples from Raquel & Adrian: "Never hesitate to apologize to each other because the key is not winning arguments, but ensuring your love grows stronger. Marriage is a wonderful journey you must build together!"
Congratulations to the newlyweds, and may your love continue to grow every day!
newlyweds in a hot air balloon in Madrid
Photography & Video:
Velas Studio
Decorations:
EVENTOH @event_oh
Florist:
Flores con ingenio @floresconingenio
Cake and Sweets:
Mis tartas para ti @mis_tartas_para_ti
DJ/Band:
VIP Fiesta (Dj Edison) info@vipfiesta.es
Makeup and Hair:
Tony Espada @tonyespada
Catering:
Grupo Araceli
Bridal Gown:
Sedka @sedka_novias
Wedding Planner:
Cristina González del Campo (@amor_wabisabi)
Shoes:
Just Ene @justeneshoes
Jewelry/Earrings:
Acus Complementos @acus_complementos, Argyor @argyor, Tissot @tissot_official
Groom's Suit:
Beli Staszewski @beli_staszewski
Transportation:
Granja Conka @granja.conka Hot air balloon @volarenglobo
Bride's Bouquet:
@francesca_lattanzi
Julia's Dress:
@boutique_polater
Children's Entertainers:
@plisplasfiestas
Finca Peñarrubia
hot air balloon wedding
If you want us to count your wedding, fill out this small form